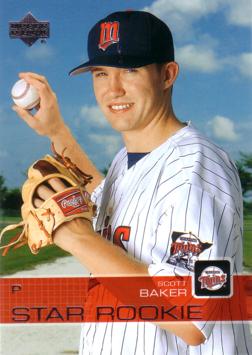 Going Above the Call of Duty Award
: Scott Baker, Minnesota Twins. Baker started the third inning of Sunday's game against the Brewers by striking out Ryan Braun and Prince Fielder, but since Mike Redmond apparently allowed the ball to bounce to Pluto, Fielder was able to waddle his way to first. Baker then settled down, and after warming up again, he struck out Russel Branyon and Mike Cameron to end the inning, thus
giving him four strikeouts in one inning
.
Speaking of Prince Fielder
: Dude apparently owes
somewhere in the neighborhood of $400K in back taxes
. Shockingly, Fielder's agent, Scott Boras, declined to comment on the matter because he suddenly realized that Fielder was short on money and therefore couldn't afford Boras's $4,537 per minute speaking fee.
Worst Las Vegas Act
: Javon Walker, Oakland Raiders. Moments after leaving the Body English nightclub, Walker was found beaten and unconcious on a back alley in Las Vegas. This was, of course, the night after his
$15K champagne party at Tryst
, another Vegas nightclub. Walker claims to have been
abducted at gunpoint from his room at the Bellagio
, but no one seems to seriously be buying that as there are bazillions of cameras at casinos and one would presume that armed men "escorting" someone off the property would have been noticed.
Worst Las Vegas Act Not in Las Vegas
: Derek Fisher, Los Angeles Lakers. Fisher was noticeably present during the first two games of the NBA Finals in Boston, but then he pulled a
David Copperfield
and was not seen again the rest of the series. It's possibly that he was abducted,
Dr. Who
-style in Boston and replaced with an evil doppleganger powered by the blood of Red Auerbach.
The Could Be Good or Could Be Bad Award
: Tiger Woods. As you may have already heard by now, Tiger played the U.S. Open this past weekend
with a torn ACL and two stress fractures in his tibia
. While putting on a gutsy performance through 91 holes of golf over five days, Tiger cemented his position in the pantheon of tough athletic performances. However, only time will tell whether or not his decision to play the Open will affect his ability to play well in the future. Of course, he wasn't in such bad shape that he couldn't
shoot a few commercials on Tuesday
.
The About Gosh Darn Time Award
: Dale Earnhardt, Jr., NASCAR. Junior
won his first race of the season on Sunday
, the LifeLock 400 in Michigan. It was his first win in 76 races and also his first since joining Hendrick Motorsports. Running on fumes and trying to hold off a challenge from Kasey Kahne, Earnhardt survived the asinine "green-white-checker" three-lap overtime to finish to the race, brought out by a caution on lap 198. Despite not winning this season until Sunday,
Earnhardt had six top-five finishes in fourteen races
and is third in the overall standings.
The "How Did I Miss This" Award of the Week
: Edwin Jarvis. Yep, that's me. Somehow, I completely missed that
Dan Patrick and CNN/SI
have formed an (un)holy alliance. I'm sure this happened weeks or months ago, and while I usually know about stuff like this, I completely missed it. The site is slick and appears to offer Patrick all of the control over his own material that the evil overlords at ESPN refused to give him. Quick Dan Patrick trivia: Did you know that
his last name is really Pugh
? True story.
This Week's Non-Sports YouTube Video of the Week
: Folks, this is what happens when boys grow up without a father in their lives.