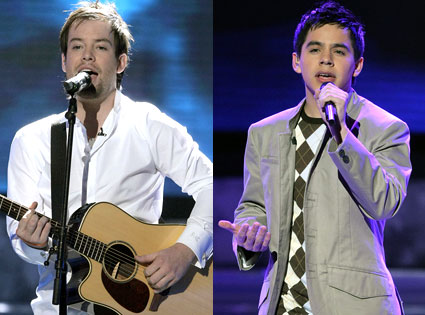 Well, we've finally reached the end of the long road that is
American Idol
(Fox, 8). Tonight we watch the representation of the forces of good, David Cook, battle the evil incarnate that is David Archuleta. Each contestant will be singing three songs--one from Clive Davis, one from some sort of online poll thingie, and another of their own choosing. One can only hope that good triumphs over evil.
After
Idol
, tune on over to Discovery at 9 for an all-new episode of
Deadliest Catch
and watch grizzled men captain giant fishing boats while drinking coffee & Red Bull and smoking an average of three-and-a-half packs of cigarettes per show. (
Ed. note: Seriously, I love this show. I watch it every week
.)
In the world of sports, you've got...
NBA: Draft Lottery, ESPN, 8
MLB: Cubs at Astros, WGN, 8
Motocross: Moto X World Championships, Deuce, 8
NBA Playoffs: Eastern Conference finals, Detroit at Boston, Game 1, ESPN, 8:30
(all times eastern)