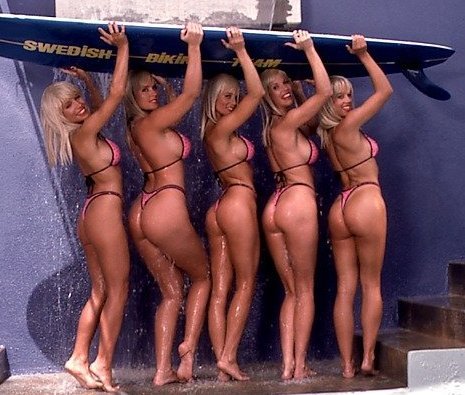 And you know what that means--fewer posts! Why, might you ask? Well, we could've done posts recently on the USA basketball team's
uniform unveiling ceremony
, or on
Manny shoving that ticket guy
, or on the 47 come-from-behind wins in the world of baseball last night, but frankly, we're a bit depressed.
July in the yearly sports calendar is a dead zone of immense proportions, not unlike the current
dead zone
affecting the Chinese coastline. What is it that we have to look forward to, other than the
inevitable Michelle Wie implosion
? NASCAR's
Firecracker 400
Pepsi 400
Coke Zero 400? What about those of us that don't live in the South and as a result don't enjoy it when
Kyle Busch gets wrecked by some furrener soundin' guy
? What about those of us that don't care about
the opening of the NBA free agency period
or whether
Agent Zero gets $100M
or
Baron Davis ends up in Memphis
? I guess we could get started on that dissertation about how SportsNation's "
STAMP IT
!" is the
worst segment ever to be broadcasted on radio
, or we could sound off on the fact that, once again, the American men have posted
another poor showing at Wimbledon
.
Ok, ok, you got us: even though July is a dead zone for sports, there has still be plenty to talk about. We're just lazy and/or busy at work (or just lazy at work). As punishment for not giving a damn about the blog this week, enjoy the photo.